Modern Intranet
Redefining a fragmented intranet experience into a new modern intranet of the future
Research  |  Usability Testing  |  Interaction and Visual Design  |   Design Thinking Workshops   |   Strategy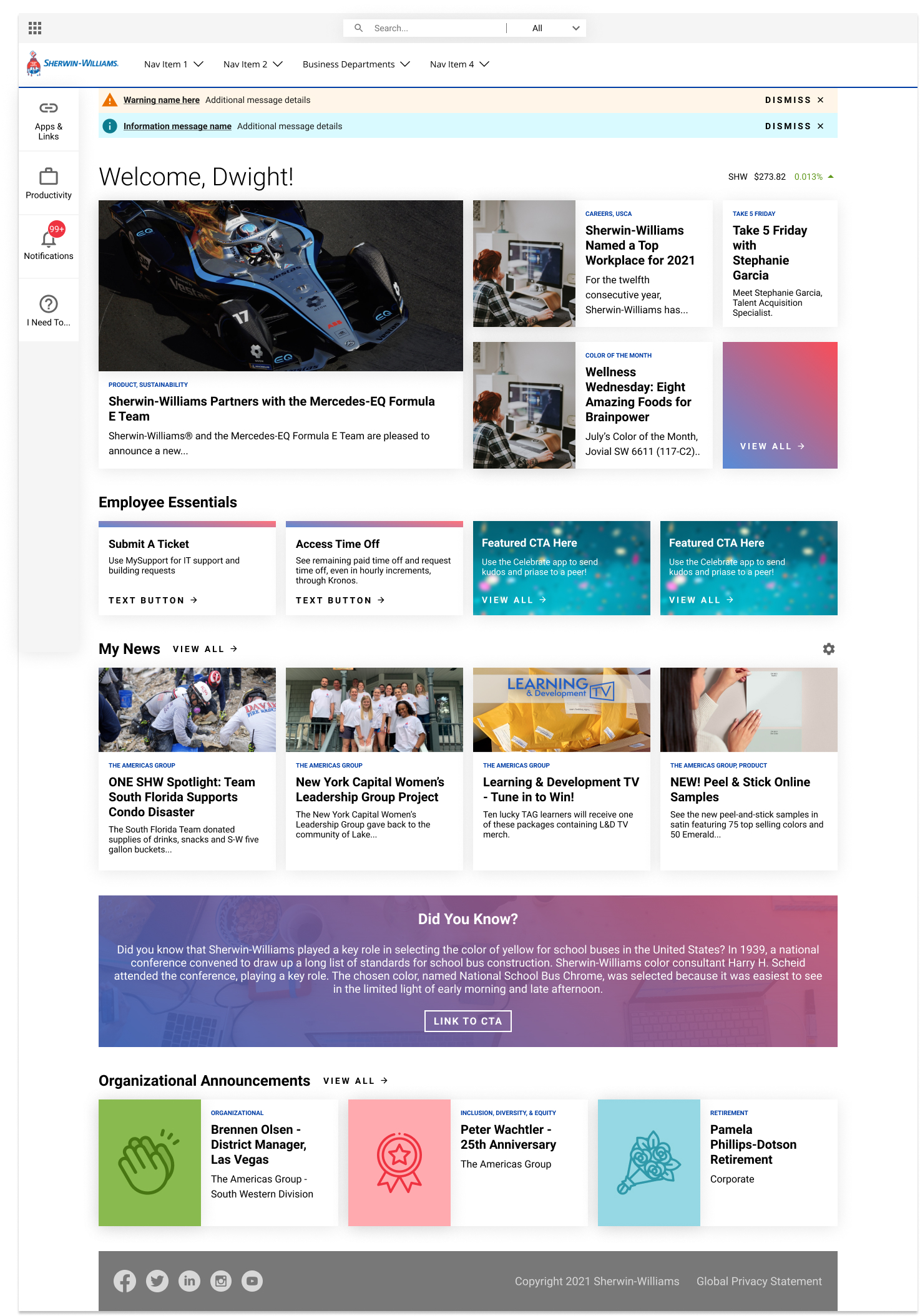 THE CHALLENGE
Sherwin-Williams globally has over 65,000 employees who today use hundreds of systems and websites for their work. The intranet today is fragmented. Only some users use or have access to the intranet, it's impossible to search, and has no content strategy – and yet it is one of the main ways employees have to find information. With the advent of the Digital Workplace and Microsoft Teams and SharePoint, finding information was only getting worse. The intranet is not responsive yet over half of Sherwin's employee's are considered front-line workers who don't have company issued devices and can only access the intranet via their personal mobile phones.  
MY ROLE
I serve as the User Experience Lead for this project. Meaning I manage a small team of designers and researchers – I manage time allocation, the work we take in, the work we produce, and the overall strategy. On top of that, I also worked on some of the visual and interaction design in Figma and organized and facilitated some of the research.
THE APPROACH
All the things!
From the start I was involved from the inception of the idea for the modern intranet through to launch. I helped a small core team of directors and managers understand what modern intranets are and helped set a vision and mission statement that has carried us through almost two years of planning and development. In addition to that, I helped with vendor evaluation and selection (we're using a 3rd party platform for the modern intranet) and have lead a small team through the activities below.
Research and Design Employed
Design thinking workshops
Requirements gathering
User population segmentation
IA testing including card sorting and tree testing
Usability testing
A/B testing
Accessibility manual code inspection and end-user walkthroughs with assistive technology
Google Analytics evaluation