ModCloth Accessibility Evaluation
Identify ways to improve the ModCloth website so it is usable by any user, regardless of ability.
Research  |  Accessibility Evaluation  |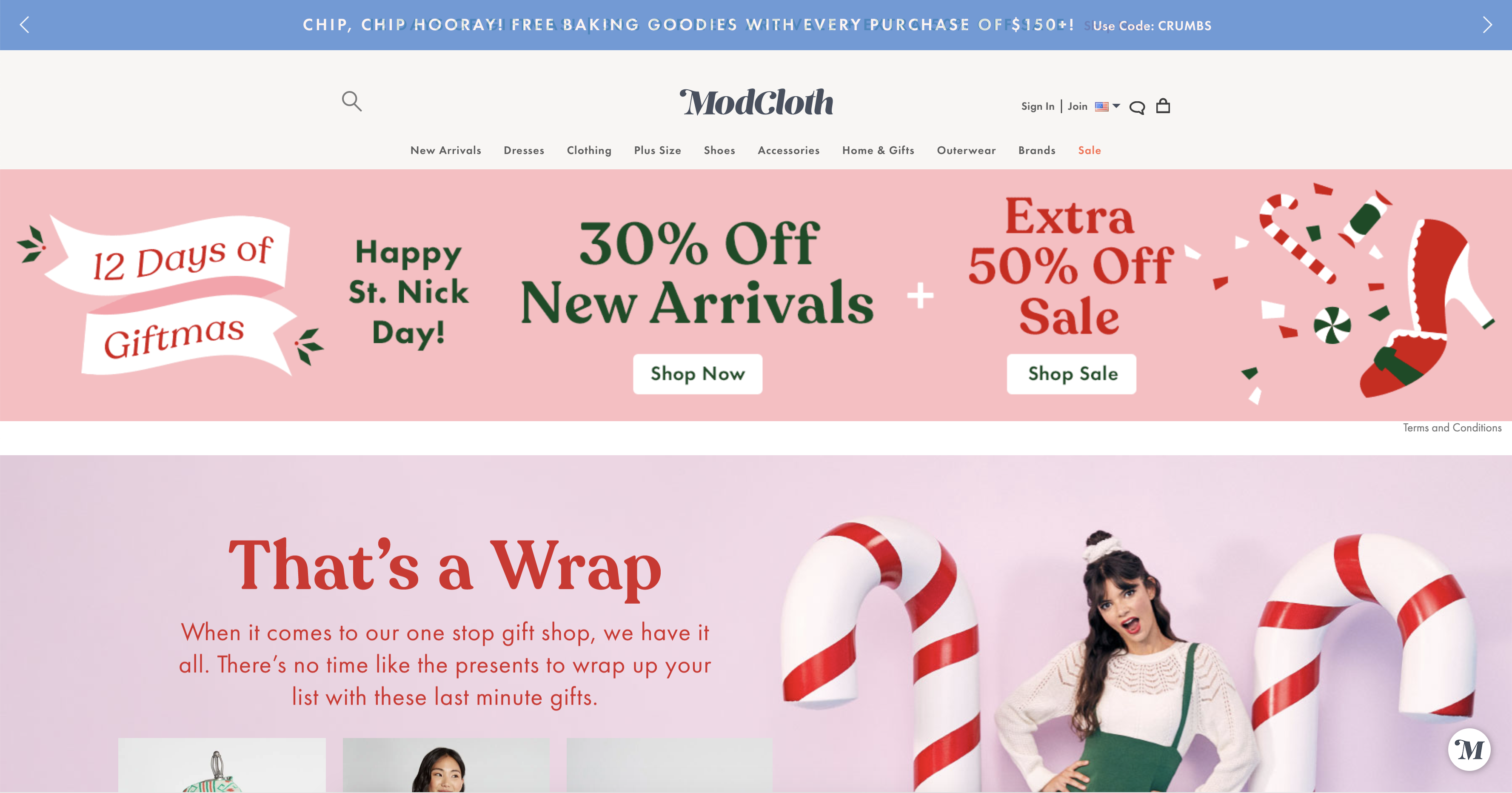 THE CHALLENGE
ModCloth is an American online retailer headquartered in Los Angeles, CA,  specializing in vintage-inspired women's clothing. In this project for school we had to execute and accessibility evaluation and create a plan for the organization.
Goals of doing an accessibility evaluation

Meet the Web Content Accessibility Guidelines (WCAG) and ensure our website is perceivable, operable, understandable, and robust – for as many users as possible
Understand how we can improve our website for users with any kind of disability

What do we gain from doing this?

Good will – we should be adapting to the needs of our users

Making our site accessible expands our user base and therefore potential profits

Having a more accessible website benefits all users, not just those with disabilities

Risks of Not Completing

Alienating a user population who may be potential customers

Potential legal action from users for not providing reasonable accommodation
THE APPROACH
For this project, I used a combination of three methods to test the following areas on the ModCloth website:
Browsing the homepage 

Searching for an item

Navigating to an item

Learning about the item on a product detail page

Adding an item to your cart 

Removing and item from your cart 

Creating an account

Checking out
The three methods used to conduct the accessibility evaluation were:
Automated code inspection: 

Use a tool, SortSite, to run an automated code inspection on the main pages of ModCloth. Review report results to determine if the code meets accessibility guidelines

Manual code inspection: 

Use assistive technologies like keyboard only navigation and screen reader software to look for mobility issues and vision issues

Experience walkthrough: 

Take on the role of a person with a disability doing key tasks on ModCloth

We employed three criteria for the experience walkthrough: 

How well the site supports use of assistive devices such as screen readers, 

The degree to which the site is navigable without a mouse or trackpad, and 

Whether the pages allow a visitor with disabilities to understand where they are and what they can do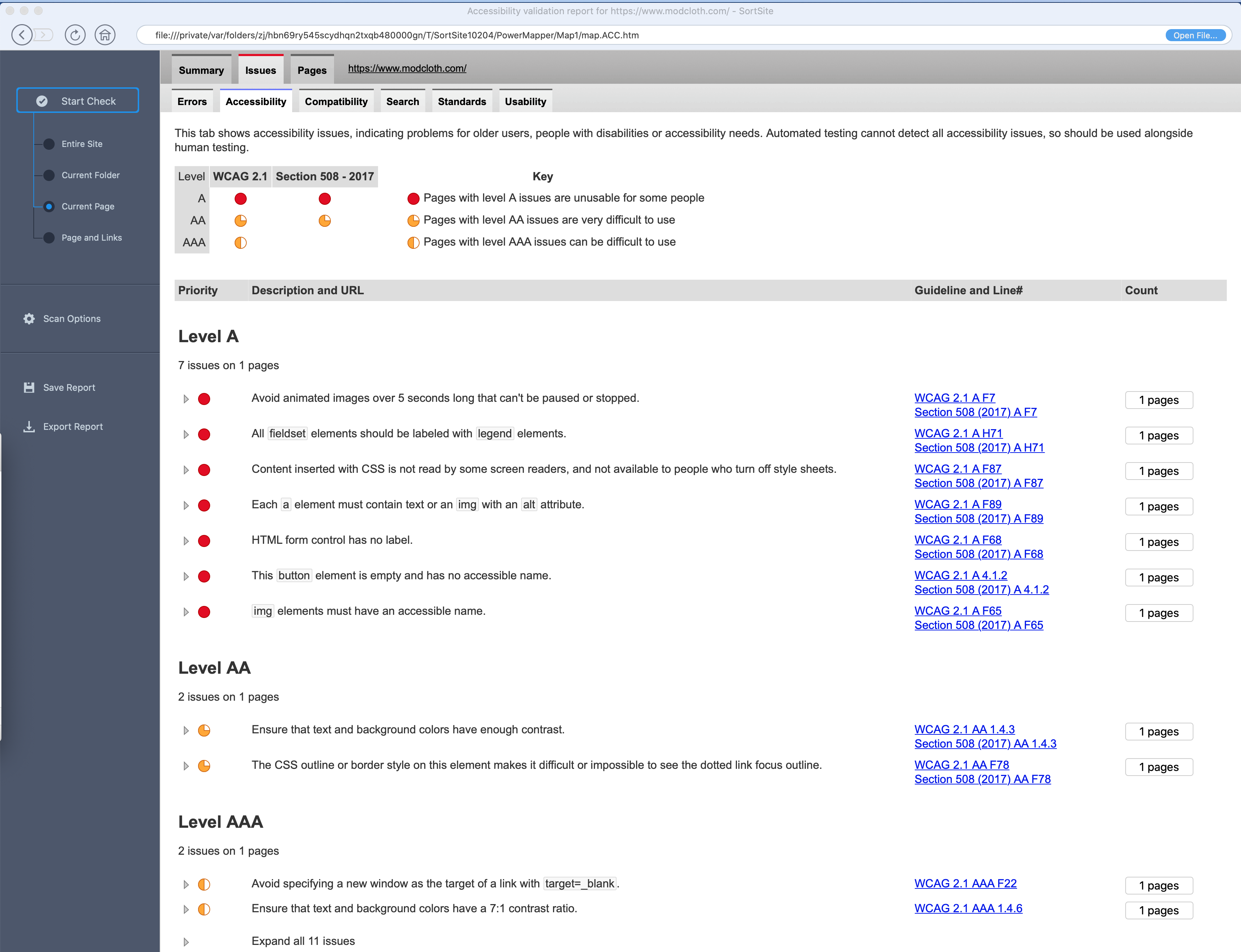 SUMMARY + IMPACT
Artifacts from the evaluation:

Code infractions that need addressed

Subjective areas of the website that may need to be re-evaluated or tested further with users

How we'll use the results:

Prioritize the areas, processes, or pages of our site we should target first for improvements

During and post development of website changes, schedule testing with end users with disabilities to validate our work
Results Summary
The ModCloth website failed 12 of the WCAG 2.1's guidelines.

On doing an experience walkthrough with both a screen reader and using keyboard only navigation, various issues ranging from critical to minor were discovered including:
Missing bypass blocks causing tabbing issues

Incorrect tabbing order causing flow and navigation issues

Showing and hiding elements on the page that a user can't tab to
 Summary Recommendations
Address code violations against the WCAG

Ensure elements on all pages have alt-text and descriptive text

Add bypass blocks so users can skip past elements on the page without having to tab through them such as the navigation 

Fix the tabbing order to flow in the correct order and highlight active items

Make it possible for users to move from the page they're on to the cart easily